Book review: The Laws of Wealth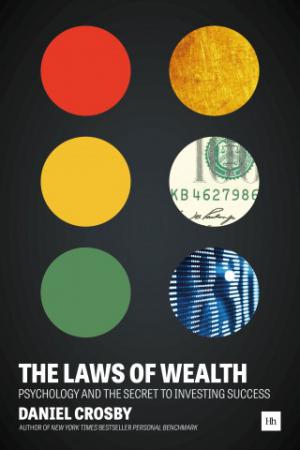 Investing is full of potential obstacles. Most investors think that if they could just figure out what happens next, they can easily avoid the future obstacles in their path. But few investors ever realize that the biggest obstacle is themselves.

The Laws of Wealth: Psychology and the Secret to Investing Success shows investors how to get out of their own way. Through studies, stories, and humor, Dr. Daniel Crosby lays out what every investor faces at some point - sometimes often - in their investing life. Their behavior compounds mistakes rather than their money.

The book is broken into two parts. The first part of the book is dedicated to ten rules that help you manage your behavioral risk. You control what matters, trouble is opportunity, excess is never permanent, and risk is not a squiggly line are a few of the rules.

Why is it important to understand these risks? Because anything that works against you can be exploited by other investors. As Dr. Crosby explains, your disadvantage, with the right set of rules, can become an advantage.

The psychology of individuals - warts and all - must be a central consideration in the formulation of any practical investing approach. The good news here is that others' misbehavior will consistently and systematically create opportunities for you. The bad news is that you are prone to all of the same quirks and are just as likely, in the absence of strict adherence to the rules, to create the same opportunities for others.
The second part of the book is dedicated to turning the risks into a rule-based process you can follow in your investing strategy.

In the book, Crosby breaks down the many behavior biases into five main types. The idea is to combat each type with a simple rule-based process that helps you focus on what matters. In doing so, you can avoid most of the behavioral risks inflicting investors.
View article on source website