Maike Currie ?The Search for Income? Interview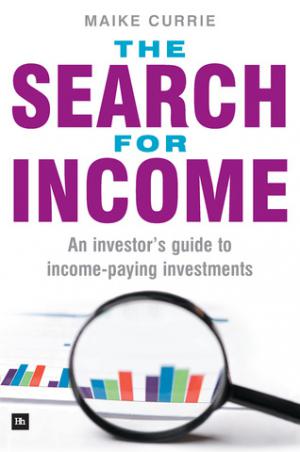 Maike Currie ?The Search for Income? Interview

Maike Currie author of The Search for Income talks to www.tradingdiary.co.uk about investing and how to generate more income from your money.

Who are you?
I am a financial journalist covering all aspects of personal finance from investing to pensions and tax issues. In short: I write about income for a living. I have worked as a reporter and editor across the Financial Times Group for a number of years ? currently I am deputy personal finance editor of Investors Chronicle, one of the oldest magazines in the world, having provided private investors with investment advice since 1860.

What is your new book ?The Search for Income? about?
The book is about how to use the financial assets and capital which you have to build an investment portfolio, in line with your risk appetite, with the aim of generating income to supplement your personal needs.

Why did you write this book?
Since the onslaught of the credit crunch, interest rates in much of the developed world have been cut to historical lows and remained at these paltry levels for almost three years. While this is great news for those on a mortgage, savers and investors leaving their money in the bank are receiving little in the form of a return.
Investors today have work much harder to seek out alternative income generating investments as the traditional channels such as bank savings accounts can no longer be relied upon to produce an adequate income. Income investing in the 21st century is not more important than it was in the past but, as the situation since the financial crisis has shown, more thought and planning is now required by investors to secure the income they desire.

What kind of readers would benefit from your book?
Anyone looking to earn an investment income whether a knowledgeable investor or a novice at the investing game. Readers may range from retirees looking for ways to supplement their pensions, parents who want to generate an income stream to fund their child?s education or another family need to individuals seeking to draw an income from their accumulated wealth whether this be to cover basic living costs, a period of redundancy or illness or to improve their overall standard of living.

What are some of the pieces of advice that you offer?
The merits of drip-feeding money into the market, the power of compounding, the role of different investment vehicles in an income portfolio, how to effectively draw income from a portfolio of aggregated investments, and more. Broadly speaking the book delves into the concepts, vehicles and strategies that can be utilised to earn an income from investing. It is about where to find income, how to grow income and of course, once you have income, how to make sure you keep hold of it.

Where are good places to search for income?
Investment Trusts ? these vehicles have an advantage in income terms over open-ended funds in the form of a revenue reserve. This enables them to hold back some of their income in reserve during good times which can then be paid out to maintain income levels when markets are struggling.
Listed infrastructure funds are also attractive. Given the long-term nature of the underlying contracts with the public sector the dividends (income payments) from these vehicles look sustainable. Dividends are also fully covered by cash-flows and the majority are index-linked providing inflation protection. This is a good alternative investment as it shares a low correlation to other assets and is not economically sensitive.

There is a lot of economic turmoil right now. Is this a good time for people to invest?
Absolutely ? volatility creates opportunities ? and with investors running scared many investments, most notably equities, are cheap. As Warren Buffet (arguably the greatest investor of our time) put it: ?Be fearful when others are greedy and greedy when others are fearful.? History also shows that in periods of economic weakness and associated equity market volatility, companies that offer a high dividend yield perform well relative to the wider market. Now is a good time to focus on higher-yielding stocks but remember that high yield can be misleading so good stock selection is critical.

Have you always been good with money?
No. Like most people I had an overdrawn credit card and lived beyond my means. But working as a personal finance journalist I have realised the merits of making your money work harder for you. I have since cut up the credit card, live within my means and am a keen investor.

What do you invest in?
A mixture of shares, property, gold and infrastructure all of which I keep safely wrapped within an ISA to avoid my hard-earned money ending up in the taxman?s coffers. I also regularly top-up my pension. Given issues such as longevity my portfolio is definitely higher risk but as a long term investor I believe there is enough time to ride out the ebbs and flows of the markets.

What other authors do you admire?
Ken Fisher, Jim Slater, currently enjoying fund manager, Gervais William?s new book Slow Finance.
View article on source website