Book of the month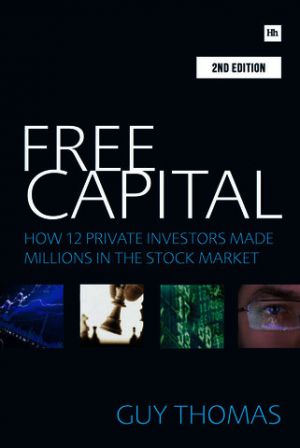 For most people, bin cleaner Craig Brazier?s recent £1.3million win on the horses after staking just £2 will fall in the same category as some of the more extreme lottery wins witnessed in recent years. However, like the investors in Guy Thomas? book Free Capital, he won?t see it like that. He?s been lucky, he acknowledges, but it?s not pure ?lottery luck? that landed him this windfall, rather ?Pasteur luck?, after Louis Pasteur?s quote, ?Fortune favours the prepared mind?.
You see when Brazier popped in to the BetFred shop on the local High Street, his selections for a type of pooled bet was based on years of experience studying the form. Furthermore his picks weren?t all favourites; several of his winners had long-ish odds and he would have been betting against perceived wisdom for those selections.
The investors featured in Free Capital might be able to relate to Brazier. They have all been lucky to a lesser or greater degree, but their exposure to this luck owed more to just buying a lottery ticket. In the book they explain the decisions and situations that led them to benefit from events such as the 1999 technology bubble and subsequent crash. Like most great investors, conviction and confidence in their analysis and the refusal to follow the herd resulted in the greatest returns.
While not all the case studies are romantic tales of rags to riches ? there are fascinating insights into how their investment styles were shaped by experiences learnt in teenage years. In the case of two investors featured in the book, illness influenced their decision to become full time investors.
For one, hours of idle practice on the fairground game Elton Derby resulted in such success that he had to come to an agreement with the game?s operators, an experience which formed his networking style of investing. Others tell how their first taste of investing came through the curious positioning of stock prices opposite the racing results in the newspapers, or by ?stagging? new share issues - in the 80s these were open to small private investors.
A common theme is the technological advances made over the past 15-20 years and how these have underpinned the investors featured in the book?s stories. For most of us, being a full-time investor without access to the company information and immediate index prices that we do now would be nigh-on impossible.
Another trait the investors share is the conviction in their ideas and their investment strategy. Of course, many have made mistakes along the way, but the key has been to learn from those mistakes while still applying the fundamental ideas behind the strategy. The lack of ego required to accept mistakes and to change your thinking is a mark of all great investors. One investor?s experience of the shenanigans within self-styled ?property shop? Erinaceous is one of many insights into what it takes to be a successful private investor when dealing with individual stocks.
There is a good range of investment styles covered within the book. From the day-trader, who works exclusively from technical analysis of the stock market (barely analysing the underlying companies at all) to top-down, bottom-up and activist investors like Peter Gyllenhammar, one of only two investors to be given their real names (the other being John Lee).
One word of caution if you?re thinking of giving up the day job: apart from Gyllenhammar (who went bust twice), all of the investors had proved they could make a living from full-time private investing by the time they left their last employment. Thomas notes in his introduction that an equally interesting book could be written of the people who have failed. That is after all why Fidelity?s customers trust their money with our range of over 2,000 funds run by professional fund managers. And why the Craig Braziers among us will more than likely carry on cleaning out wheelie bins.
View article on source website