Book Review: Free Capital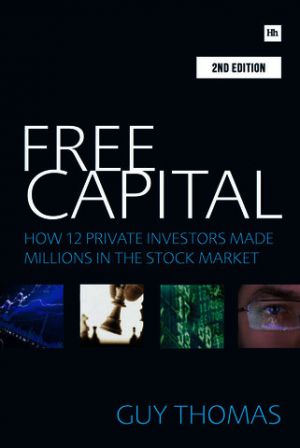 he author profiles 12 successful private investors in the UK, teasing out their methodologies and their psychological makeup ? and its an interesting and encouraging book.

Whilst he categorises the approaches into (in effect) top down, bottom up and activist, in practice he describes many different personalities and investment styles - ranging from individuals living in modest houses in the North, surrounded by trading screens and trading tens of millions each month in opening auctions, to investors in small oil E&Ps or mining stocks with startling numbers of Bulletin Board posts to their credit..

The encouraging conclusion is that there is no common blueprint for success. However, points that struck me from the book are that almost all of the investors have developed their own niche (some obscure) or an information advantage of some sort ? from a focus on small companies to searching out of the unloved and oversold such as companies that have made profit warnings. Most of the investors have worked hard over a sustained period to learn their trade, and many still put in longish days with clear processes in place. Portfolios also tend to be more concentrated than portfolio theory would indicate, lifestyles modest, and leverage generally avoided. And these are the survivors ? they also avoided spectacular losses such as from the technology crash.

Monor gripes ? the descriptions are not precise on detailed processes and performances. But the range of styles covered is such that most investors will find a model with at least some features of their own, and thought-provoking ideas from other approaches in the often private world of the private investor.
View article on source website