PRESS RELEASE - gold medallist in the Axiom Business Book Awards 2017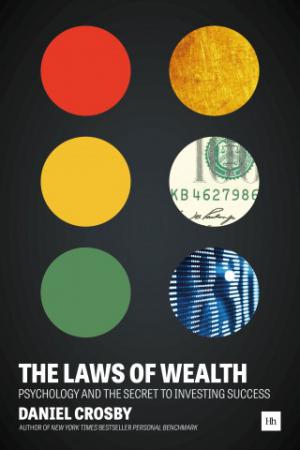 ATLANTA – Axiom has announced the winners and finalists of THE 2017 BUSINESS BOOK AWARDS on February 15, 2017. Winners were announced in each of 22 business categories with The Laws of Wealth: Psychology and the Secret to Investing Success (Harriman House) taking the Gold Medal in the Personal Finance/Investing category. Awards were presented for titles published between April 2015 and December 2016.

Written by New York Times bestselling author Dr. Daniel Crosby, the prize-winning book aims to be the most practical treatise on behavioral finance written to date. The book is comprised of two parts, the first dealing with the application of psychological principles to financial planning and the second setting forth a practical system for improving asset management by incorporating the latest thinking in behavioral science.

Crosby, a doctor of psychology and President of Nocturne Capital, had the following to say: "For far too long the lessons of behavioral finance have been trapped in the ivory tower of academia and have had limited impact on investors. The Laws of Wealth was written to provide practical tools for managing self and wealth en route to an enjoyable and profitable investment journey. This high honor is a welcome recognition that we are on the right path." In addition to the critical accolade bestowed by Axiom, The Laws of Wealth has enjoyed a popular commercial reception with brisk sales and a 4.8 average rating on Amazon.com.

Founded in 1996, the Axiom Business Books Award was created to "bring increased recognition to business books and their creators", who may otherwise be overlooked in a publishing landscape that tends to focus on creative writing. Winners traversed the publishing landscape: Simon and Schuster, Pearson, HarperOne, Portfolio/Penguin, Harvard Business Press, MIT Press, Harriman House, Wiley, McGraw Hill, Penguin Random House, and many more contributed to this year's strong competition.

NocturneCapital.com is behavioral asset management firm serving the needs of individuals and institutions committed to the research-based investment principles set forth in The Laws of Wealth.

Dr. Daniel Crosby is the President of Nocturne Capital and an executive at the Brinker Capital Center for Outcomes, a financial advisor education initiative that helps advisors understand the powerful impact behavioral science can have on their practices. Crosby was previously named to Investment News' prestigious "40 Under 40" list and is the co-author (with Charles Widger of Brinker Capital) of the New York Times bestselling, Personal Benchmark.

A complete list of the winners and finalists of The 2017 Best Business Book Awards are available online at http://www.axiomawards.com.

View article on source website