The Naked Trader\'s Guide to Spread Betting - How to make money from shares in up or down markets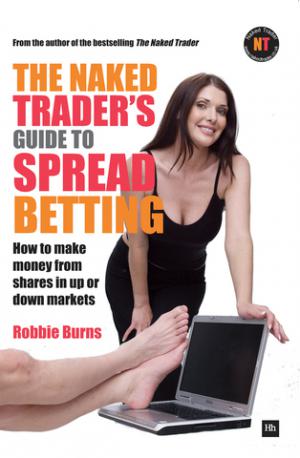 Robbie Burns is a trader, entrepreneur, and author of 'The Naked Trader' - his first book on share trading. This, his second book, builds on much of the information in 'The Naked Trader' and assumes that the reader has already done some kind of trading or investing in the share market.

'The Naked Trader's Guide to Spread Betting' is a beginner's guide to spread betting. It covers how to do it and contains some ideas and techniques on making money from spread betting. The book is aimed at those who have traded shares in the traditional way and are interested in learning about spread betting and some other ways to make money from the share market.

As Burns explains in the first chapter, spread betting differs from trading shares. You are betting - pure and simple - on whether the share price will rise or fall. There is no ownership of the share or any other asset. The spread betting firm you are using to place these bets is effectively a bookmaker. It is taking the other side of your bet. For UK residents the profits from spread betting activities are tax free, just like winnings from the races or the lottery, because they are bets, not trades in actual shares.

The book covers most of the usual information related to trading, including how to place trades, understanding margin, using stop losses and so on. The big difference is that it is all to do with spread betting, written in Burns' unique and down-to-earth style.

In Chapter 6, Burns looks at the operations and operators at two spread-betting firms; TradeFair (the sister company of BetFair), and IG Index, the largest spread-betting firm. Burns compares the business models of the two firms, their dealers and other idiosyncrasies of each firm.

Overall, this is a well-researched and well-presented book on spread betting. It is easy and enjoyable to read, but that doesn't detract from the content. As a spread better with many years' experience, Burns obviously 'knows his stuff' and this comes across well in the book.
View article on source website