Press and Publicity
Why marketers want to know your habits
Nudge; consumer psychology podcast
30th April 2019
Did you know that companies spend millions trying to discover when customers have kids? In this episode I chat to best-selling author Richard Shotton about the power of habit. He explains how life eve...
Read Full Article
---
"Your Retirement Salary" – the pension best seller.
The Vision of the Pension Playpen
28th April 2019
Richard Dyson & Richard Evans, the Daily Telegraph's senior personal finance journalists, have written a book. I like the title "Your retirement salary" , the book is about creati...
Read Full Article
---
Book Review: Way Of The Trader, By Ian Murphy
Talk Markets
27th April 2019
It's been a while since a mainstream publisher released a book on trading, especially trading with a human face. Ian Murphy's Way of the Trader: A Complete Guide to the Art of Financial Trading (H...
Read Full Article
---
The Real Keys to Being Rich and Truly Wealthy
Your Money, Your Wealth
26th April 2019
Brian Portnoy, Ph.D., CFA® (author, The Geometry of Wealth) on the difference between being rich and wealthy, and how to achieve both. Plus, what about tax brackets? Joe and Big Al respond to a chall...
Read Full Article
---
Five great books that will make you better at PR
PPR Consulting
26th April 2019
4. The Choice Factory | Richard Shotton | @rshotton The aim of PR is to reach an audience through earned media to influence them: usually to buy your stuff. But if you don't understan...
Read Full Article
---
Book Review: The Sceptical Investor How contrarians bet against the market and win - and you can too
Think Trading
26th April 2019
Most books on investing have a positive title, like "How to win at investing" or something similar, but Stepek has chosen as a main title one that is fitting to his cautious and thoughtful ...
Read Full Article
---
Why investors need to be aware of their behaviour - Herman Brodie
The Evidence-Based Investor
23rd April 2019
Herman Brodie is a specialist expert in behavioural economics. Formerly an algorithmic trader for an investment bank, he became fascinated by the predictable aspects of human behaviour and how that af...
Read Full Article
---
Found a share you love? Don't buy until you've answered this vital question
The Motley Fool
22nd April 2019
Stock-picking requires time and a willingness to thoroughly research companies before buying them. Even Warren Buffett — generally regarded as the best stock-picker that's ever lived — believes ...
Read Full Article
---
Becoming a sceptical investor, with John Stepek
Informed Choice Radio
22nd April 2019
It seems that all investors want to be contrarian investors. My guest today explains that being a contrarian is hard work. It requires a lot of patience, both in terms of waiting for op...
Read Full Article
---
Stepek, The Sceptical Investor
Seeking Alpha
18th April 2019
John Stepek, executive editor of the UK's best-selling financial magazine MoneyWeek, has written an astute book for retail investors. The Sceptical Investor: How Contrarians Bet Against the Market and...
Read Full Article
---
Understandings on what drives consumers
Marketing IE
17th April 2019
Richard Shotton's recent book The Choice Factory is arguably the most practical guide to behavioural economics, with an overview of how findings from behavioural science can be applied to marketing ...
Read Full Article
---
Like Fleabag, we all want to be told how to live – but money rules don't always work
The Telegraph
15th April 2019
Upon inspection, the "save half your age" rule fails to deliver – and it is not alone. Last week we reported that the "4pc rule", which says you can safely withdraw 4pc of your pension a yea...
Read Full Article
---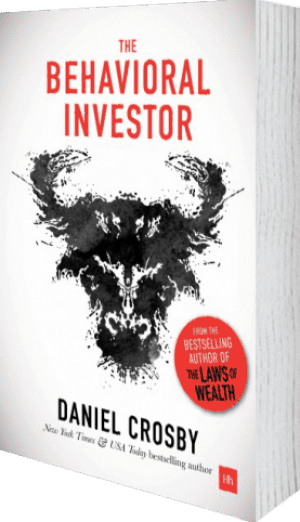 Swedroe: Peers Can Change Financial Behavior
ETF.com
12th April 2019
P.S. I just finished reading Daniel Crosby's "The Behavioral Investor," which I highly recommend. You can find my list of the best baker's dozen of behavioral finance books here....
Read Full Article
---
[Ep. 192] Planning for a Successful Retirement with Larry Swedroe
Mo' Money Podcast
10th April 2019
I don't know why exactly, but lately I've been hearing from my millennial clients their big concern about not being able to afford retirement. I'm talking 20 and 30 years olds freaking out becau...
Read Full Article
---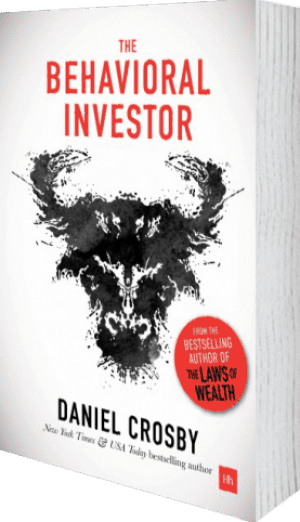 Books for Getting Started in Investing
Guru Focus
9th April 2019
You don't need to read 10,000 pages before you can get your feet wet. But there are some general topic areas you do want to have some familiarity with. (...) Process: Daniel Crosby'...
Read Full Article
---
How much can you take from your pension? Divis plus 1pc, says new rule
The Daily Telegraph
6th April 2019
Now a "1pc rule" has been introduced to solve the problem by former head of Telegraph Money Richard Dyson and Questor editor Richard Evans in their new book Your Retirement Salary. The ...
Read Full Article
---
Book Review – The Sceptical Investor
Master Investor
1st April 2019
Richard Gill, CFA, reviews The Sceptical Investor, a "comprehensive manifesto" for contrarian investing, written by MoneyWeek executive editor John Stepek....
Read Full Article
---